W. J. ZENG
I work on research, product and strategy at rigetti quantum computing. I am focused on quantum computer architecture, quantum software and algorithm engineering, and making quantum computing useful.
| twitter | linkedin | arXiv | currently listening |

I am product lead for the forest experimental quantum programming toolkit, including the open source libraries pyquil and grove. My phd thesis at oxford applies abstract methods (mainly from categorical algebra) to the study of quantum algorithms and protocols. Before that I worked with superconducting qubit systems at yale and eth zurich.
If you want to learn more about how to get started with quantum computing, I've written a short introduction, which is part of the documentation for pyQuil.
....................................
Programming the world's first quantum computers using Forest [video]
9 May, 2018 at Skillsmatter, London

This talk is an introduction to modern quantum programming. It covers why you might want to program a quantum computer and how you would do so today. The only background assumed is linear algebra and complex numbers at the level of undergraduate computer science.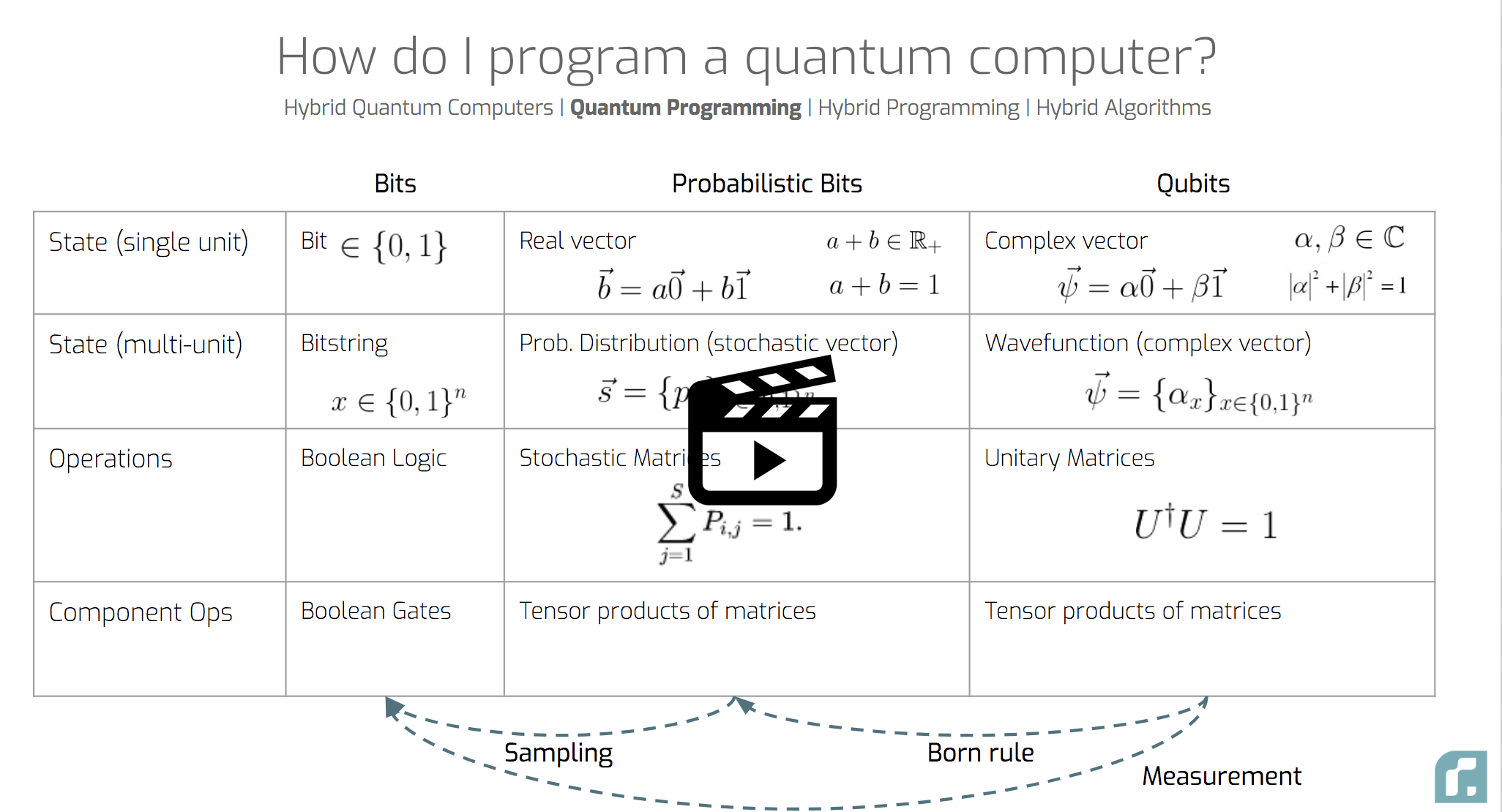 ....................................
The Arrival of Quantum Computing [slides]
19 April, 2018 at Impact.Tech

This talk is an introduction to quantum computing. Part 1 introduces the technology and Part 2 introduces the industry. It covers how you may get involved as a scientist, programmer, entrepreneur, or investor.
....................................
Why and how to program a quantum computer [slides]
3 April, 2018 at Stanford Platform Lab

This talk is an introduction to modern quantum programming. It covers why you might want to program a quantum computer and how you would do so today. The only background assumed is linear algebra and complex numbers at the level of undergraduate computer science.
....................................
Forest 1.3: Upgraded developer tools, improved stability, and faster execution [blogpost]
22 February, 2017

In December, the team at Rigetti became the first to solve an unsupervised machine learning problem on a gate model quantum computer. We did this by connecting one of our recent superconducting quantum processors, a 19-qubit system, to our software platform, Forest. In the ten weeks since then, researchers have already used Forest to train neural networks, program benchmarking games, and simulate nuclear physics.

Starting today, researchers using Forest will be upgraded to version 1.3, which provides better tools for optimizing and debugging quantum programs. The upgrade also provides greater stability in our quantum processor (QPU), which will let researchers run more powerful quantum programs...
....................................
Easy, Hybrid Quantum Programming with Forest [video] #talk

14 January, 2018
QIP2018, Delft, Netherlands

The first scalable universal quantum computers are now available, such as the 19 qubit processor built by Rigetti Computing. As these devices mature, it is important to consider how best to make use of them. This requires new and applied programming models for quantum computing. In particular, promising near-term algorithms for quantum simulation, optimization, and machine learning require a hybrid quantum/classical programming environment. In this talk, we introduce a freely available open-source environment (Forest) based on a shared-memory intermediate representation ( Quil) that is optimized for this hybrid model. The environment runs through a cloud API with client-side Python libraries that target both superconducting quantum circuit and classical simulation backends. We will share how to get started with Forest, as well as how to do research with example hybrid algorithms using a quantum computer.
....................................
Unsupervised Machine Learning on Rigetti 19Q with Forest 1.2 [blogpost]
18 December, 2017

We are excited to share that our team has demonstrated unsupervised machine learning using 19Q, our new 19-qubit general purpose superconducting quantum processor. We did this with a quantum/classical hybrid algorithm for clustering developed at Rigetti...
....................................
Unsupervised Machine Learning on a Hybrid Quantum Computer [arXiv]
18 December, 2017

Machine learning techniques have led to broad adoption of a statistical model of computing. The statistical distributions natively available on quantum processors are a superset of those available classically. Harnessing this attribute has the potential to accelerate or otherwise improve machine learning relative to purely classical performance. A key challenge toward that goal is learning to hybridize classical computing resources and traditional learning techniques with the emerging capabilities of general purpose quantum processors. Here, we demonstrate such hybridization by training a 19-qubit gate model processor to solve a clustering problem, a foundational challenge in unsupervised learning. We use the quantum approximate optimization algorithm in conjunction with a gradient-free Bayesian optimization to train the quantum machine. This quantum/classical hybrid algorithm shows robustness to realistic noise, and we find evidence that classical optimization can be used to train around both coherent and incoherent imperfections.
....................................
Nature Comment: First Quantum Computers Need Smart Software [Nature] [podcast]
13 September, 2017

We outline three developments that are needed over the next five years to ensure that the first quantum computers can be programmed to perform useful tasks. First, developers must think in terms of 'hybrid' approaches that combine classical and quantum processors. For example, at Rigetti we have developed an interface called Quil, which includes a set of basic instructions for managing quantum gates and classical processors and for reading and writing to and from shared memory. Second, researchers and engineers must build and use open-source software for quantum computing applications. Third, scientists need to establish a quantum programming community to nurture an ecosystem of software. This community must be interdisciplinary, inclusive and focused on applications.
....................................
Rigetti Partners with CDL to Drive Quantum Machine Learning [blogpost]
24 August, 2017
....................................
Demonstration of Universal Parametric Entangling Gates on a Multi-Qubit Lattice [arXiv]
20 June, 2017

We show that parametric coupling techniques can be used to generate selective entangling interactions for multi-qubit processors. By inducing coherent population exchange between adjacent qubits under frequency modulation, we implement a universal gateset for a linear array of four superconducting qubits. An average process fidelity of F=93% is estimated for three two-qubit gates via quantum process tomography. We establish the suitability of these techniques for computation by preparing a four-qubit maximally entangled state and comparing the estimated state fidelity against the expected performance of the individual entangling gates. In addition, we prepare an eight-qubit register in all possible bitstring permutations and monitor the fidelity of a two-qubit gate across one pair of these qubits. Across all such permutations, an average fidelity of F=91.6±2.6% is observed. These results thus offer a path to a scalable architecture with high selectivity and low crosstalk.
....................................
Parametrically-Activated Entangling Gates Using Transmon Qubits [arXiv]
20 June, 2017

We propose and implement a family of entangling qubit operations activated by radio-frequency flux pulses. By parametrically modulating the frequency of a tunable transmon, these operations selectively actuate resonant exchange of excitations with a statically coupled, but otherwise off-resonant, neighboring transmon. This direct exchange of excitations between qubits obviates the need for mediator qubits or resonator modes, and it allows for the full utilization of all qubits in a scalable architecture. Moreover, we are able to activate three highly-selective resonances, corresponding to two different classes of entangling gates that enable universal quantum computation: an iSWAP and a controlled-Z rotation. This selectivity is enabled by resonance conditions that depend both on frequency and amplitude, and is helpful in avoiding frequency crowding in a scalable architecture. We report average process fidelities of F = 0.93 for a 135 ns iSWAP, and F = 0.92 for 175 ns and 270 ns controlled-Z operations.
....................................
Architectures for Hybrid Quantum/Classical Computing [slides] #talk
22 May, 2017

Quantum Computing Institute Seminar, Oak Ridge National Lab, TN
The first scalable universal quantum computing devices are now being designed and built in several groups worldwide. As these devices mature, it is important to consider how best to make use of them. This will require new and applied programming models for quantum computing. In particular, promising near-term algorithms for quantum simulation, quantum chemistry, and optimization require a hybrid quantum/classical programming environment. In this talk, we introduce an open-source environment (Forest) based on a shared-memory intermediate representation (Quil). The environment runs through a cloud API with client-side Python libraries that can target both superconducting quantum circuit and classical simulation backends. We discuss the programming model and implementations of the Quantum Approximate Optimization Algorithm in this environment.
....................................
A Practical Quantum Programming Workshop [video] #talk

16 January, 2017
QIP2017, Seattle, WA

Recent progress on quantum computing hardware, especially in superconducting qubit systems, highlights the need for practical programming models and tools for these first devices. In particular, many near-term applications are quantum/classical hybrid algorithms, that treat the quantum computer as a co-processor. In this workshop, we introduce Forest, an open source quantum programming toolkit targeting near-term applications and devices. This toolkit includes an intermediate quantum instruction language (Quil) and Python libraries for generating and executing Quil code in either a simulated environment or on a quantum processor.
....................................
Quantum Programming on Near-term Devices [slides] #talk
29 November, 2016

Simons Institute, University of Berkeley, CA - Invited talk at the Semantics, Formal Reasoning, and Tools for Quantum Programming MURI Review.
....................................
A Functional Architecture for Scalable Quantum Computing [IEEE] [direct download]
17 October, 2016

Quantum computing devices based on superconducting quantum circuits have rapidly developed in the last few years. The building blocks-superconducting qubits, quantum-limited amplifiers, and two-qubit gates-have been demonstrated by several groups. Small prototype quantum processor systems have been implemented with performance adequate to demonstrate quantum chemistry simulations, optimization algorithms, and enable experimental tests of quantum error correction schemes. A major bottleneck in the effort to develop larger systems is the need for a scalable functional architecture that combines all the core building blocks in a single, scalable technology. We describe such a functional architecture, based on a planar lattice of transmon and fluxonium qubits, parametric amplifiers, and a novel fast DC controlled two-qubit gate.
....................................
A Practical Quantum Instruction Set Architecture [arXiv] [blogpost]
11 August, 2016

We introduce an abstract machine architecture for classical/quantum computations---including compilation---along with a quantum instruction language called Quil for explicitly writing these computations. With this formalism, we discuss concrete implementations of the machine and non-trivial algorithms targeting them. The introduction of this machine dovetails with ongoing development of quantum computing technology, and makes possible portable descriptions of recent classical/quantum algorithms.
....................................
Quantum Algorithms for Compositional Natural Language Processing [EPTCS]
4 August, 2016

We propose a new application of quantum computing to the field of natural language processing. Ongoing work in this field attempts to incorporate grammatical structure into algorithms that compute meaning. In (Coecke, Sadrzadeh and Clark, 2010), the authors introduce such a model (the CSC model) based on tensor product composition. While this algorithm has many advantages, its implementation is hampered by the large classical computational resources that it requires. In this work we show how computational shortcomings of the CSC approach could be resolved using quantum computation (possibly in addition to existing techniques for dimension reduction). We address the value of quantum RAM (Giovannetti,2008) for this model and extend an algorithm from Wiebe, Braun and Lloyd (2012) into a quantum algorithm to categorize sentences in CSC. Our new algorithm demonstrates a quadratic speedup over classical methods under certain conditions.
....................................
High-threshold decoding algorithms for the gauge color code [slides] #talk
16 March, 2016

Baltimore, MD - APS March Meeting 2016
Gauge color codes are topological quantum error correcting codes on three dimensional lattices. They have garnered recent interest due to two important properties: (1) they admit a universal transversal gate set, and (2) their structure allows reliable error correction using syndrome data obtained from a measurement circuit of constant depth. Both of these properties make gauge color codes intriguing candidates for low overhead fault-tolerant quantum computation. Recent work by Brown et al. calculated a threshold of ~0.31\% for a particular gauge color code lattice using a simple clustering decoder and phenomenological noise. We show that we can achieve improved threshold error rates using the efficient Wootton and Loss Markov-chain Monte Carlo (MCMC) decoding. In the case of the surface code, the MCMC decoder produced a threshold close to that code's upper bound. While no upper bound is known for gauge color codes, the thresholds we present here may give a better estimate.
....................................
The Abstract Structure of Quantum Algorithms [Oxford Thesis]
26 December, 2015

Quantum information brings together theories of physics and computer science. This synthesis challenges the basic intuitions of both fields. In this thesis, we show that adopting a unified and general language for process theories advances foundations and practical applications of quantum information. Our first set of results analyze quantum algorithms with a process theoretic structure. We contribute new constructions of the Fourier transform and Pontryagin duality in dagger symmetric monoidal categories. We then use this setting to study generalized unitary oracles and give a new quantum blackbox algorithm for the identification of group homomorphisms, solving the GROUPHOMID problem. In the remaining section, we construct a novel model of quantum blackbox algorithms in non-deterministic classical computation. Our second set of results concerns quantum foundations. We complete work begun by Coecke et al., definitively connecting the Mermin non-locality of a process theory with a simple algebraic condition on that theory's phase groups. This result allows us to offer new experimental tests for Mermin non-locality and new protocols for quantum secret sharing. In our final chapter, we exploit the shared process theoretic structure of quantum information and distributional compositional linguistics. We propose a quantum algorithm adapted from Weibe et al. to classify sentences by meaning. The clarity of the process theoretic setting allows us to recover a speedup that is lost in the naive application of the algorithm. The main mathematical tools used in this thesis are group theory (esp. Fourier theory on finite groups), monoidal category theory, and categorical algebra.
....................................
Contextuality and the Weak Axiom in the Theory of Choice [Proc. Quantum Inter.]
23 November, 2015

Recent work on the logical structure of non-locality has constructed scenarios where observations of multi-partite systems cannot be adequately described by compositions of non-signaling subsystems. In this paper we apply these frameworks to economics. First we construct a empirical model of choice, where choices are understood as observable outcomes in a certain sense. An analysis of contextuality within this framework allows us to characterize which scenarios allow for the possible construction of an adequate global choice rule. In essence, we mathematically characterize when it makes sense to consider the choices of a group as composed of individual choices. We then map out the logical space of some relevant empirical principles, relating properties of these contextual choice scenarios to no-signalling theories and to the weak axiom of revealed preference.
....................................
The Quantum Software Challenge [Medium]
19 October, 2015

What software engineers should know about quantum computing...
....................................
Diagrammatic Methods for the Specifcation and Verifcation of Quantum Algorithms [slides] #talk
9 June, 2015

Institute for Quantum Computing, University of Waterloo - Quantum Programming and Circuits Workshop
....................................
sticks [Medium] #fiction
7 Feburary, 2015

In earlier years, we would hold small angled sticks...
....................................
see [Medium] #fiction
27 January, 2015

See that little in the weathered man's life could match the intensity, the panting rhythms, the speed of the sled dogs...
....................................
Abstract structure of unitary oracles for quantum algorithms [slides] [video] [paper] #talk
6 June, 2014
Kyoto, Japan - Quantum Physics and Logic ( QPL ) 2014

We show that a pair of complementary dagger-Frobenius algebras, equipped with a self-conjugate comonoid homomorphism onto one of the algebras, produce a nontrivial unitary morphism on the product of the algebras. This gives an abstract understanding of the structure of an oracle in a quantum computation, and we apply this understanding to develop a new algorithm for the deterministic identification of group homomorphisms into abelian groups. We also discuss an application to the categorical theory of signal-flow networks.
....................................
A Subtle Introduction to Category Theory [notes]
Spring, 2013

Some playful notes and riffs on monoidal category theory. Very much a WIP.
....................................
For Sale [link]
16 August, 2013

A microfiction.
....................................
Rowing
I've done my fair share of river batting.

The Oxford-Cambridge Boat Race 2012 [wiki]
&nbsp Oxford Prepares Videos: [1] [2] [3] [4] [5] [6] [Epilogue] [Race Highlights]
&nbsp Media: [NYT] [theguardian]

IRA National Championships 2011 w/ Yale Lightweight crew [video]


....................................